Soldier visits children at his former school
Army Staff Sgt. Troy Johnston talks with Morningside students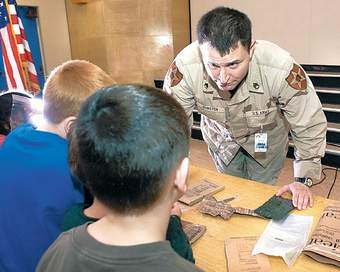 LORI CAIN | STATESMAN JOURNAL
Students at Morningside Elementary School ask U.S. Army Staff Sgt. Troy Johnston questions after he spoke about some of his experiences in Iraq.
December 11, 2004
Morningside Elementary School students didn't meet just any soldier on Friday, they welcomed one of their own.
"What was your favorite thing when you were little about being at Morningside?" one girl asked Army Staff Sgt. Troy Johnston during his visit to the south Salem school he attended as a child.
"Recess," he answered.
The children laughed. Another child raised his hand.
"What was your second favorite thing when you were a kid here?"
"Lunch."
Johnston, 31, returned to the United States on Nov. 1 after serving a year in Mosul, Iraq. He is a member of the Stryker Brigade, based in Fort Lewis, Wash. Johnston's mother, Jane Nelson, is a kindergarten instructional assistant at Morningside.
"We thought it would be good for the kids to actually see a soldier instead of just seeing a picture in the newspaper," Nelson said.
The school welcomed Johnston with yellow balloons near the front entrance, and a message with his name on an outdoor sign.
Johnston grew up in Salem and has been in the Army for about 10 years. He spent about 45 minutes Friday afternoon speaking to several classes at his former school, showing them pictures he took in Iraq and letting them handle Iraqi money and MREs -- meals ready to eat.
Many of the younger students wanted to know if Johnston had met their friends or relatives who also served in Iraq.
"The Army's pretty big," was his usual answer.
Some of the boys asked about the weapons he carried. The biggest weapon he used was a 155 mm Howitzer, and the most weapons he could carry at once was two: a rifle and a pistol.
Johnston described the Strykers in which he rode, which are large armored combat vehicles.
"Think about nine full-grown men fitting in the back of one of them," he told the students. "It gets crowded."
One student asked him about camel spiders, which led to a long discussion -- and multiple follow-up questions -- about the 6-inch-wide carnivorous spiders that sometimes chased the soldiers in the desert.
Another fact that surprised the students was the temperature in the desert, which reached 130 degrees where Johnston was staying.
Fourth-grader Ashley Reul said she was most impressed with the food the soldiers eat. Timothy Hartley, another fourth-grader, couldn't stop thinking about the camel spiders.
"The camel spiders were new to me," he said. "I hadn't heard about them."
Sean Warnock, a second-grader, said he didn't know the soldiers had to go through so much training.
"They have to work very hard so they don't get shot," he said.
His classmate, Shihonna Vigil, didn't realize Iraq could be so dangerous.
"He was awesome," she said of Johnston. "I've never seen an Army person in real life."
sevans@StatesmanJournal.com or (503) 399-6856