July 26, 2010 to July 29, 2010
Detroit Lake State Park
With plenty of sunshine, water for swimming, a playground and lots of other kids to play with the girls had a great time!
---
August 8, 2010
Happy 70th Birthday, Dennis!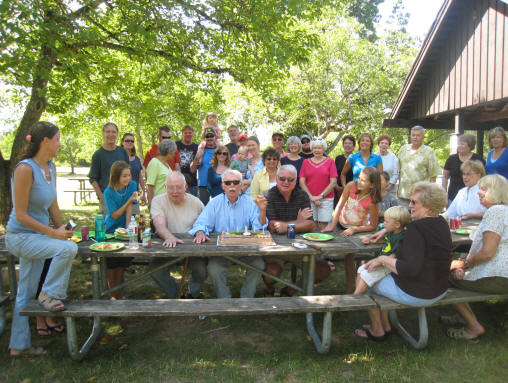 Family and friends gathered at Willamette Mission State Park for a picnic
to celebrate Dennis Heath's 70th birthday. A fun time was had by all - especially Dennis!
---
August 5, 2010 to August 9, 2010
Stephany's sister Michele comes down from Kenmore, Washington for a visit.
---
July 22, 2010
Enchanted Forest
The Enchanted Forest is as magical as ever!
---
July 17 2010
OUCH!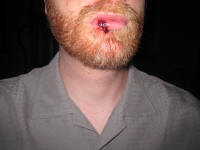 Aden's lip gets ripped open by a friend's french bulldog!
Luckily the plastic surgeon was able to fix it up so its good as new.
---
July 12, 2010 to July 16, 2010
Joseph Stewart State Recreation Area Camping Trip
---
July 8, 2010
Marion County Fair
The fair was a hit with granddaughters Ellery and Sydney as always - especially the fascinating 4-H pig judging! Seriously we take them to the Marion County Fair and the Oregon State Fair every year and Ellery always wants to watch pig judging. Go figure!

Although we brought our own food Pa Dennis can never resist those Elephant Ears!

---
June 28, 2010
Kim starts a new job as a Chief Administrative Officer at Diane Plant Sciences!
As she describes it: My title is Chief Administrative Officer for Diane Plant Sciences. The corporate office is in France. I will be working with 10 PhD and Master level Chemists. The best way I have found to explain Diane Plant Sciences is: Instead of planting 20,000 carrots to find the one with the best orange color, we cultivate 20,000 carrot cells to find the one with the best color.
---
June 28, 2010 to July 2, 2010
Tugman State Park Camping Trip

Stephany and Dennis head to the southern Oregon coast for some hiking, kayaking and playing with the dogs in the sand dunes.
---
June 2, 2010 to June 18, 2010
The Toomey family travels to Belgrade, Serbia to finalize the adoption of their new son and brother, Sasha.
Sasha joins father Jeremy, mother Devon and brothers Heath and Brooks.

Welcome Sasha (Aleksandar)Hunt James Toomey!
Born: October 19, 2008
Adoption: June 11, 2010
Sasha is a congenital quadruple amputee who was placed in a Serbian orphanage at birth.
Devon found his story through the internet and she and Jeremy committed to making him a member of their family.
Devon has been writing a wonderful blog about Sasha and their adoption experience:
http://onestitchatatimetoomey.blogspot.com/
---
June 6, 2010
Heath is Four!
Heath celebrated his birthday in Serbia this year!
---
June 1,2010 to June 14,2010
Dennis and Stephany head east over the mountains and south to Nevada looking for sun!
Max and Zoey didn't know much about RV life when we started out but at the end of the trip they were pros!
---
May 23, 2010
Sydney Is Three!
With a wave of her new wand she declared her birthday party on May 29 "magic"!
---
May 23, 2010
Stephany's sister Michele comes down from Kenmore, Washington for a visit.
---
April 23 – April 25, 2010
Stephany's Birthday Campout at South Beach State Park
April 19, 2010
Meet Max!
Max is Stephany's birthday present from Dennis. He is a 16 week old labradoodle. Our current dog Zoey came with us when we got him and she approves!
Max's parents are both labradoodles. His dad is a standard wool coat multi-generational cream labradoodle with Australian lineage and weighs 65 lbs.
His mom is a medium apricot labradoodle from AKC parents and weighs 55 lbs.
---
March 22 - March 25, 2010
South Beach State Park
Spring Break camping at the Oregon coast with granddaughters Ellery and Sydney
---
February 15, 2010
Associated Press Article on Dr Marty Hill
Marty is the father of Kim Hill Smith, wife of Aden Smith
---
February 2, 2010 - February 16, 2010
Devon, Heath and Brooks come to visit!
A fun time was had by all with visits to the beach, OMSI, Family Fun Center, riding the MAX line to the Oregon Children's Museum, swimming and lots of cousin playtime, overnights and family visiting.
---
January 27, 2010
Sydney starts preschool at Village Montessori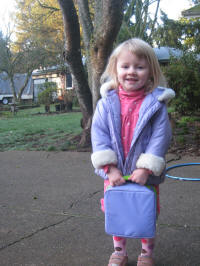 ---
January 26, 2010
Dennis is officially retired!
His position at Willamette Valley Hospice has ended.
Oh but wait! Now he is going to have a "occasional" position where he is on call one weekend a month and fills in for the other spiritual counselors if needed. That was a really short retirement!
---
January 18, 2010
Good News on the Job Front!
Colin starts a 10 to 12 week job at Jive Software
Jive develops collaborative social software for businesses.
Kim and Aden both start part-time jobs at APEX Laboratory.
Apex is a small environmental laboratory in Tigard, Oregon which specializes in analyzing soil and water samples for a wide variety of environmental contaminates.
---
Home | News | Where We Are | Genealogy