---
2015 School Photos!
---
December 28, 2015 - December 29, 2015
Ellery attends the Willamette Valley Humane Society Junior Trainers Winter Camp

---
December 25, 2015
Merry Christmas from Stephany and Dennis!
December 20, 2015
Brittany Anderson and Greg Bobbitt and Greg's daughter Signe
Get Married at Timberline Lodge on Mt Hood!
December 3, 2015 - December 6, 2015
Stephany Flies to Eagle
Stephany does a quick fly-in to Eagle to share some holiday time with the Toomeys.
A highlight of the trip was a visit to the awesome Winter Garden light display at the Boise Botanical Gardens.

---
November 26, 2015
Thanksgiving and Happy Birthday Kim!
---
November 5, 2015
Ellery is Eleven!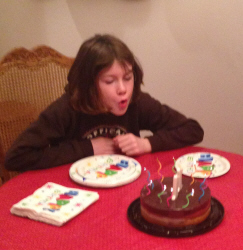 ---
November 4, 2015
Tamarack Resort Video
Tam Fam Stories | Episode 2 | The Toomeys
Episode 2 introduces you to the Toomeys.
This family has raised a beautiful family and invited a special child into their lives.
Their story has been told by The Today Show, People Magazine and now by Tamarack.
Their story of love and selflessness makes us proud to have them part of the Tam Fam.
---
October 31, 2015
Halloween Trick or Treaters!

---
October 19, 2015
Bowen is Seven!

---
October 15, 16, 17, 2015
Justin Visit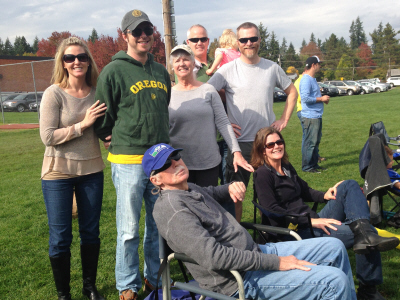 It was great having nephew Justin Robertson and his wife Shannon and daughter Haven
visit from Alaska. Here Dennis and I are at granddaughters Ellery and Sydney's soccer
game along with Colin, Aden and Kim.
---
October 15, 2015
Heath's AARP Video
Heath's screen debut in an AARP commercial. What a pro!
And here's his agency photo.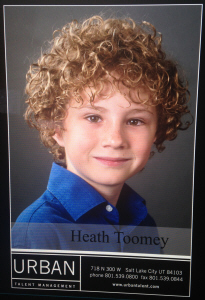 ---
September 23, 2015
Brooks is Seven!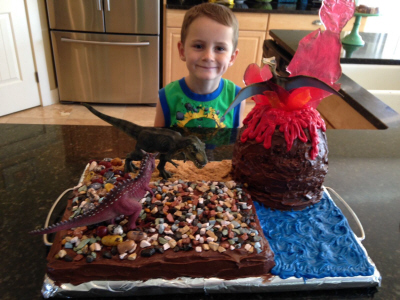 ---
September 20, 2015
Aden's Team Takes third in Trivia Contest!
Third place in the $1500 trivia contest nets them $100!

---
September 19, 2015
Devon, Jeremy and Brooks Do Seattle!
Jeremy had a conference in Seattle so Devon and Jeremy joined him for an adventure!
Heath and Bowen had their own adventure being spoiled by their grandparents Dennis and Lorilee.
---
September 11, 2015
People Magazine

---
September 7, 2015
Colin Gets A New 2015 Subaru Cross Trek!
---
Back to School!
---
August 23, 2015 to August 27, 2015
Camping at Honeyman with Ellery and Sydney
---
August 17, 2015 - August 20, 2015
Junior Trainers Camp
Ellery attended Junior Trainers Camp at the Willamette Valley Humane Society.
They learned about care and training of animals and helped get animals ready for adoption.
The last day they went on a field trip to Cockatoo Downs in Dallas, Oregon for a hands-on
training experience with the cockatoos.

---
August 9, 2015 - August 14, 2015
Visit to the Toomey's in Eagle
---
August 8, 2015
Welcome Bob Cat and Sunshine!
---
August 3, 2015 - August 8, 2015
Camp Silver Creek
---
August 1, 2015
Cousin Emily Anderson Linauer Weds Jeremy Rogers
---
July 26, 2015 - July 30, 2015
Camping at Fort Stevens with Ellery and Sydney
---
June 21, 2015 - June 25, 2015
Camping at Kah-Nee-Ta and La Pine with Ellery and Sydney
---
June 14, 2015 - June 18, 2015
Camping at Honeyman with Heath and Brooks
---
June 4, 2015
Heath is Nine!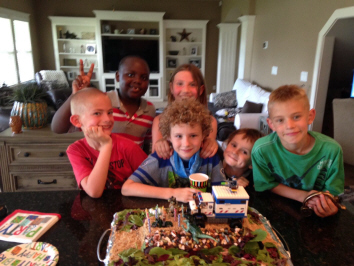 ---
June 4, 2015
Good-bye Simone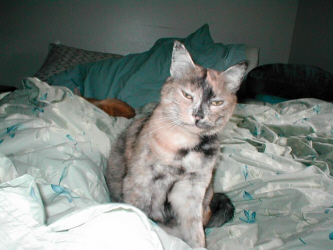 Simone died today at age 18.
She was Kim's cat for many years and will be missed very much

---
May 14, 2015 - May 22, 2015
Reno
Could the reason Stephany likes to go to Reno be the Sizzling Platter at Bangkok Cuisine
or the burgers at In and Out? Probably! For Dennis the reason may be a bit different!
---
May 25, 2015
Sydney is Eight!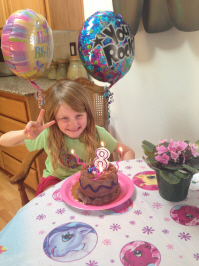 ---
May 26, 2015
Chicken Pox at the Toomeys!
---
April 30, 2015 - May 4, 2015
Eagle Visit
Devon and Jeremy get a date night and the boys have a Scooby Doo slumber party in the RV!
This was suppose to be the start of one of Stephany's wandering exploration adventures but she was not feeling well and decided to come home early and leave exploring for another time. It was fun while it lasted though!
---
April 12, 2015
Colin and Third Cousin Beth Olarsch at Timbers Game
Family relationships and history are interesting. Stephany met Bethís parents, Herbert Olarsch and Marlene Olarsch, through the internet while doing family history research on her father Herb Libinís family. Their branch of the family stayed on the east coast in New Jersey while her branch migrated to Montana and then to Oregon, Washington and California. Beth lives in New York City but is in Vancouver, Washington on a work assignment. So here today, after three generations, the family branches come together again with Colin and Beth at a Timbers soccer game. How cool is that!
---
March 17, 2015 - March 27, 2015
Spring Break in Eagle
---
March 1, 2015
Boise Channel 7 KTVB Films Bowen Skiing with Recreation Unlimited Program at Bogus Basin
---
February 25, 2015
Grabenhorst Cousin Reunion Photograph
Coburn Grabenhorst's 70th Birthday Party
---
February 27, 2015
Dr Jer's New Office!
---
January 10, 2015
Kim has a new house
Aden and Kim are setting up separate households. Kim has bought a house less then a mile away from
their old house which will now belong to Aden. Ellery and Sydney will be splitting time between both houses.