Merry Christmas and a Happy New year to all our family and friends!
---
December 5-8, 2008
Aden and Kim Finally Get A Vacation!
Kim had a business meeting in Las Vegas so she and Aden added a couple days and gave themselves a long overdue vacation together. Ellery and Sydney stayed with Stephany and Dennis so a good time was had by all!
---
November 8, 2008
Aden and Kim get a new car!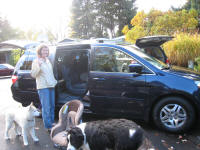 They get a 2006 Honda Odyssey EX-L Van to replace their car that was totaled in an accident last month.
Note: No, they don't have new dogs as well! They are just visiting.
---
November 5, 2008
Ellery is four years old!
---
Emily and Eric Linauer are expecting a baby around May 12 next year
Emily is the daughter of Trey Anderson and Jackie Smith Anderson.
---
October 22, 2008
Stephany Has Camped In Every Oregon State Park Campground!
When Stephany retired one of her goals was to RV camp in every Oregon State Park Campground. On October 22 she and Dennis and Ellery camped at Champoeg State Park and achieved her goal!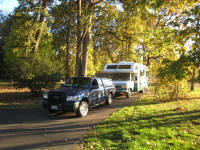 ---
October 5, 2008
Aden and Kim's Honda Crashed!
Kim and the girls were in a car accident on Barbur Blvd in Portland.
As Aden explains it:
It was a dark and stormy night….
Kim, Ellery, Sydney, Old guy
Kim and girls southbound on Barbur Blvd
Old guy pulls out from 7-eleven parking lot, cutting Kim off
Kim broad sides man's truck
Sunday evening on the 5th of October around 4:00 PM
Luckily no one was hurt although everyone was pretty shaken up.
After Colin's wreck in 2006 and now this maybe we should all stay off Barbur Blvd!
---
September 23, 2008
Welcome Baby Brooks!
Brooks Woodrow Toomey arrived on September 23 at 4:07 am. He weighed in at 7 lbs 13 ounces and 19.5 inches. His proud parents are Jeremy Toomey and Devon Smith Toomey.
---
A Great Description of Pa Dennis!
The simplest toy, one that even the
youngest child can operate, is called a grandparent.
---
September 2008
Ellery Goes Back To Village Montessori School!
---
September 2008
With no teaching job in Salem for Emily and with Eric commuting to his job in Portland they have decided to leave Salem and move to Portland at the end of September.
---
Smith Family Reunion
August 16, 2008
Jackie and Trey Anderson's House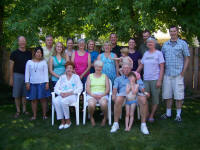 ---
Sad News
Three of old Bluff Ave neighbors died this summer.
We'll always remember our good days together in the old neighborhood
Russ Christensen
13 May 1952 - 6 Aug 2008
Louis Fulgaro
25 Jul 1932 - 18 Jul 2008
Dennis Tollenaar
8 Jun 1952 - 14 May 2008
---
July 27,2008 - August 3, 2008
Stephany tours the Olympic Peninsula
---
Sara Elizabeth Smith Chester
13 Feb 1915 - June 17, 2008


Elizabeth is the sister of Burton Smith and wife of Bill Chester. She volunteered for many years as a docent in the Pismo Beach Monarch Grove where this picture was taken
---
June 6, 2008
Heath is two years old!
Heath is really into trucks and tractors these days so Devon made him a great little tractor birthday cake. As you can see he really enjoyed it!
---
May 25, 2008
Sydney is one year old!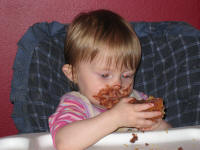 ---
May 2008
Devon completes her two year coursework in Special Education and is awarded a Dual Education Credential. With all that is going on in her life she still manages to pull all A's in her classes. Way to go, Devon!
---
May 16, 2008
Jeremy graduates from the University of Nevada School of Medicine.

Jeremy's mom Lorilee does the honor at the hooding ceremony.
She is standing in for Devon and Heath who remained in the audience because Heath was sick and not up to being a participant.
He will be doing his Orthopedic Surgery residency at the Creighton University Medical Center in Omaha, Nebraska.
---
May 8, 2008 - May 21, 2008
Stephany heads to Pomona, California to take the Lazy Daze in for some warranty work and then to Reno/Sparks for Jeremy's graduation from the University of Nevada School of Medicine
---
Heath is going to have a brother!
Devon and Jeremy's new baby is going to be a boy and his name will be Brooks Woodrow Toomey.
"We chose Brooks because we both really liked the name and it honors the Cleland side of our family (note: Devon's great-grandfather's mother was Clara Bell Brooks) Family names are important to us and we feel that this is a unique, strong name that honors an important part of our family history.

We chose Woodrow to to honor Jeremy's grandfather. Jeremy has really fond memories of the time he spent with is Grandpa Woody in Palos Verdes, California. He was a unique character in the family and somebody that is still very important to both Jeremy and his dad. Just talking about him always brings a smile to Jeremy's face.

We are excited to give our son such a unique name that honors both sides of our family."
---
April 2008
The Toomeys buy a house in Omaha
The 1,383 square foot house was built in 1929. It is two minutes from the hospital where Jeremy will be doing his residency so he can be home with his family as much as possible. Read about the house and the improvements the current owner has made to it in this .pdf document.
---
April 2008
Rollie Heath is moving to Keizer
Rollie Heath is moving from Lincoln City to Keizer. The stairs at his old apartment were getting to be a problem and this way he will be closer to friends and the Kaiser Permanente Clinic.
---
The Toomeys are moving to Omaha, Nebraska!

Jeremy will be doing his Orthopedic Surgery residency at the Creighton University Medical Center in Omaha, Nebraska. They will be moving in June after Jeremy graduates from medical school and Devon is through with her current school-year contract. Both of them are excited as this was Jeremy's first choice for a residency program and the cost of living/housing is also a major plus.
---
March 5 - March 23
On the Road Again!
Stephany heads for Reno/Sparks to visit the Toomeys and then explore the Northern California coast on the way home
---
Devon and Jeremy are having another baby!

The newest member of the family is scheduled to join brother Heath around the end of September. Congratulations to the new parents-to-be!
---
February 16, 2008
Dennis wins $2,012!
Just like December 4, 2000 Dennis has a Megabucks close call when
he gets five out of six Megabucks numbers right. Maybe the third
time will be a charm!

---
February 4, 2008
Colin starts a new job
He will be working as Sales Order Coordinator at Associated Business Systems in Tigard.
---
January 22, 2008
Devon goes back to work
She is returning to her old job at as a special ed teacher at Diedrichsen Elementary School in Sparks teaching students with learning disabilities. This time she will be doing it half-time instead of full-time so she and Heath can still do all their fun activities together.
---
January 12, 2008
Colin starts the new year off with a bang!
He finds he has to have a root canal, his car is broken into and the Seahawks lose. Hopefully this means he has gotten all his bad luck out of the way early in the year.