---
2022 School Pictures
Christmas
---
December 14, 2022
Heath Gets His eagle High School Letter In Swimming!
This year Heath was on the swim team for Eagle High. At the December 14 award ceremony he was awarded his school letter as well as an award for most improved swimmer. He is now
swimming for a YMCA club team as well as life guarding and teaching swim lessons.
---
December 3, 2022
The Toomeys Get Ready For Christmas
---
December 2, 2022
Bowen Wins A Medal In The YMCA Adaptive Swim Meet!
---
November 24, 2022
Thanksgiving
Grieving the empty place at the Thanksgiving table this year
---
November 11, 2022
Aden Has Open Heart Surgery
---
November 5,2022
Ellery Is Eighteen!
---
October 19, 2022
Bowen Is Fourteen!
---
October 8, 2022 - October 17, 2022
The Toomeys Visit Hawaii
---
Dennis Leroy Heath
August 6, 1940 - October 5, 2022
---
October 1, 2022
Jack
Jack and Ringo's Parents
---
September 29, 2022
Goodbye Sweet Lulu
---
September 23, 2022
Brooks Is Fourteen!
---
Roland Heath
August 7, 1937 - September 19, 2022
Dennis' brother Rollie died on September 19, 2022.
Dennis conducted his funeral service on September 23 at Lincoln Memorial Cemetery in Portland.
He was buried next to his wife Mary who died in a car accident in 1970.
We will definitely miss Rollie's big smile and great laugh
---
August 2022
Back To School!
Heath Grade 11
Eagle
High School

Sydney Grade 10
Lakeridge
High School

Brooks Grade 8
North Star
Charter

Bowen Grade 8
North Star
Charter
Ellery Freshman
Oregon State University


Football game at Reser Stadium With roommate Jena
---
August 22, 2022
Stephany Has Cataract Surgery on Right Eye
September 12, 2022
Stephany Has Cataract Surgery on Left Eye
Both surgeries were a success and she can see clearly again!
---
July 25, 2022 - July 29, 2022
Camping at Tugman
This year Brooks flew in from Idaho to join Pa, Gram, Ellery and Sydney for the camping trip to Tugman State Park. Heath was working as a lifeguard so couldn't make the trip. Gram had rented a yurt for the teen-agers so everybody had enough space. We didn't know at the time but this would end up being Pa's last camping trip.
---
July 11, 2022 - July 22, 2022
Sydney YMCA LIT (Leaders In Training) Training
---
June 19, 2022 - June 25, 2022
Dennis and Stephany Take A Trip to Idaho To Visit The Toomeys
Dennis and Stephany drive to Eagle to give Heath Dennis' Ford Ranger as the clutch has become hard for Dennis to use
Aden, Ellery and Sydney had visited the week before and Sydney extended her visit and drove back with them in the RV
---
June 6, 2022
Heath Is Sixteen!
---
June 3, 2022
Ellery Graduates From Lakeridge High School in Three Years!
Next Up: Oregon State University!
Congratulations Ellery!
---
May 25, 2022
Sydney Is Fifteen!
---
May 19, 2022
Lakeridge Signing Day
Ellery Signs Letter for OSU Equestrian Program!
---
May 18, 2022
Brooks Wins Second Place Out of 90 Entries in Human Rights Art Contest!
---
May 14, 2022
Ellery and Ayden Prom Night!
---
May 5, 2022
Dennis and Stephany get a Ford Transit Connect Wagon!
The van will replace our old 2007 Ford Ranger which will be going to Grandson Heath.
---
April 29, 2022
Stephany's Birthday Celebration at La Margarita!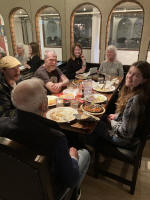 ---
April 25, 2022
A Week for New Jobs!
Colin gets a new job as a Project Coordinator for Andy Medcalf Construction
Josh gets a new job working at the Winco warehouse
Heath gets a summer job as a YMCA life guard
In addition Ellery will be working as a counselor at Camp Silver Creek this summer.
Congratulations everyone!
---
April 13, 2022
Spring Snowfall!
Spring Break 2022
March 21, 2022 - March 25, 2022
Kim, Ellery and Sydney to Lopez Island in the San Juans
March 19, 2022 - March 23, 2022
Toomeys to Oregon
---
March 14, 2022
Sydney Lakeridge High School Orchestra Concert
First live concert in two years!
(next concert May 18)
Sydney and friends Kellene, Chase, Marin, Hannah, Natalia and Sydney
---
March 3, 2022
Stephany Trigger Finger Release Hand Surgery
---
February 20, 2022 - February 23, 2022
Sydney's Lakeridge High School Orchestra Disneyland Adventure
And guess who else was at Disneyland at the same time?
The Toomeys!
February 19, 2022 - February 26, 2022
The Toomey's Santa Monica and Disneyland Adventure
Did you hear the story about the guy named Jeremy who impulsively walked into
the Tesla store in Santa Monica to look around and twenty minutes later ended up buying a new Tesla!
---
February 17, 2022 - February 20, 2022
Ellery OHSET (Oregon High School Equestrian Teams) Competition
2022 Competitions
March 17, 2022 - March 20, 2022
April 14, 2022 - April 17, 2022
---
January 23, 2022
Bowen Takes Up Snowboarding!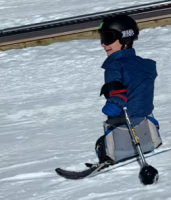 This is a KVTV news story on Bowen learning to snowboard and the Awesome Adaptive Sports Program in McCall, Idaho.
https://www.youtube.com/watch?v=B8aFzDvcB6I
---
COVID Omicron Score
Even with vaccinations Omicron hit some of the family.
All the Toomeys got mild cases.
Kim, Eric, Ellery and Sydney got mild cases
Dennis, Stephany, Colin and Aden have been lucky so far and haven't gotten it.
---