Merry Christmas and a Happy New year to all our family and friends!
---
December 31, 2007
Dennis ends the year with a bang!
Dennis steps out of his truck at the Willamette Valley Hospice parking lot and and slips on a batch of ice landing on his elbow. Luckily he is just bruised.
---
Stephany's brother, George Grabenhorst, is 2007 Top Producer and Broker of the Year for Rushing Real Estate
---
Toomey Christmas Visit
December 14 - December 31
Devon, Jeremy and Heath drive up to spend Christmas in Oregon
---
Maynard R Heath
November 21, 1916 - December 3, 2007
Maynard is the the uncle of Dennis Heath
---
November 2007
Two family related moves this month
Gilman and Lee are moving to Roseburg
Alan Libin is moving to White Salmon, Washington
---
November 5, 2007
Ellery is three years old!

---
October 9 - October 27, 2007
Stephany and Dennis finally get their new Lazy Daze RV
For her maiden voyage they make they make the great circle of national parks and monuments in southern Utah's spectacular red canyon country.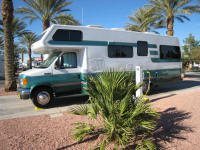 2007 Lazy Daze Features and Specifications.pdf
---
September 7 - September 9
Stephany takes Amtrak to visit her sister Michele in Edmonds, Washington
---
September 4, 2007
Ellery starts pre-school!
She will be attending Village Montessori three mornings a week
---
2007 is turning out to be the year of the new Fords
In addition to Dennis's new Ford Ranger we have two more new Fords purchased
this week and the new RV on a Ford chassis coming sometime in late September.
The Toomey family gets a new 2007 Ford Freestyle on August 19, 2007

Stephany gets a 2008 Ford Escape Hybrid on August 18, 2007
---
July 31, 2007 - August 8, 2007
Devon and Heath come for a visit
Devon and Heath flew up from Reno for a visit and to celebrate Dennis's birthday. We all had lots of fun including visiting Enchanted Forest and the carousal at Riverfront Park plus several family get-togethers so Devon and Heath could see everyone.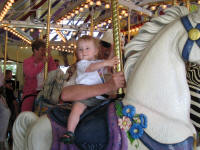 ---
June 29, 2007
Dennis gets a new truck!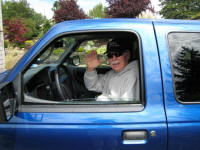 The 2007 Ford Ranger will replace his old Ranger. This one is a vast improvement over his old bare bones model. It has an extended cab and air conditioning.
---
July 19, 2007
RV Muru is sold
Stephany and Dennis sold their 2000 Winnebago Minnie. They ordered a new 2007 Lazy Daze in April which should be ready for pickup at the Lazy Daze factory in Montclair, California sometime in September.
---
June 6 2007
Heath is 1 year old!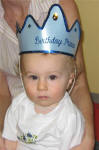 Cousin Ellery and Uncle Aden and Gram Stephany fly down to Reno
for the celebration. It was Cousin Ellery's first airplane ride and
she thought it was so much fun she wants to go back down and visit again!
---
May 25, 2007
Welcome to Sydney Maxwell Smith!
Sydney is the daughter of Aden and Kim Smith and sister of Ellery.
She was born at 5:58 P.M. and weighs 8 lbs 1 oz.
---
Echo
9 May 1992 - 28 Mar 2007
You were such a great dog
We love you and we miss you

Rest in peace, old friend
For Echo
A poem and eulogy by Colin Smith
---
February 11, 2007
Rollie Heath wins $10,000!
Rollie wins first place at the JPW/ACC Open cribbage tournament in Reno, Nevada.
The JPW/AAA tournament is the largest in the country.
Way to go Rollie!
Rollie is the brother of Dennis Heath
---
Our sympathies to Alan Libin on the loss of his mother and brother
Esther Surovi Libin
7 Nov 1927 - 7 Mar 2007
Marvin Libin
1 Dec 1967 - 24 Jan 2007