---
March 26,2018 - March 30, 2018
The Toomeys Visit Oregon for Spring Break!

Two nights in Salem with a visit to the state capital and a promised birthday dinner for Jeremy
Two nights in Portland with a visit to Oaks Park, Powells Books and Colin's work place at Jive Software
---
March 17, 2018
Welcome Buddy Libin!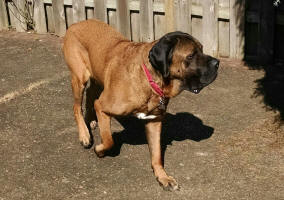 ---
Newman Toomey
February 22,2004 - February 16,2018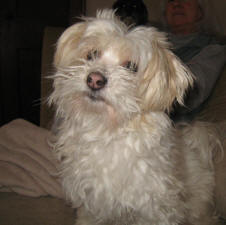 The Toomeys are heartbroken after having to say goodbye to Newman.
In Devon's words: Our hearts are broken. Yesterday, we had to say goodbye and see you again in Heaven one day, to our amazing, fun loving, joyful, live in the moment, always by our side, faithful companion of 14 years, Newman. We had him before we had kids and he was like a child to us. We loved him so much and we are grieving deeply. Nothing prepares you for days like this. He fought hard for almost two years through a debilitating chronic illness. He never gave up but his body failed him and it was time to let him go peacefully. And he did. In our home, surrounded by all of us, snuggled in my arms with his loyal companion Bruiser right by his side snuggled up next to him.. he peacefully made his journey to Heaven. And now we are in a deep mourning period and our hearts are heavy with sadness.
---
January 27, 2017
Max has dental surgery to remove his two front bottom teeth which were cracked
Looks like his and Zoey's games of tug-a-war are a thing of the past!
---
January 17, 2018
Ankle Hardware Removal
Today Stephany had surgery to have the plate and screws removed from her 2016 ankle fracture repair.
She has been experiencing pain from the metal plate rubbing between her bone and the inside of her skin.
The surgery was a success. Looking at the hardware they removed it is no wonder she was experiencing pain!
Update January 30: Today the stitches were removed and I can walk normally again! Such a wonderful feeling!

---
January 15, 2018
Alan Libin is in the hospital with some serious issues including severe heart failure
Update: February 2, 2018
Alan went home today with a strict aftercare regiment, many medications and a new CPAP for his sleep apnea. His heart failure is severe enough that he needs to have a LVAD (left ventricular assist device) implanted to help his heart pump properly. However to qualify for that he has to make some life style changes in the next few months so right now he is on nine different medications to keep his heart working until he can hopefully get the LVAD implanted.
---
January 13, 2018
Curt Heath and Michelle Tracy Get Married!
---
Happy New Year Unpleasant Surprise
The building where we store our RV at South Salem RV Storage was broken into. The thieves pried up and broke the escape hatch on the front of the roof and dropped in. They then proceeded to ransack all the cupboards and drawers but I had removed everything prior to storage so there wasn't really anything for them to take except a windbreaker and my bike. They started to take Dennis's bike too but for whatever reason abandoned it outside the building. We feel lucky that there wasn't anymore damage but it is still a bummer. Management's response was less than stellar and as compensation we were given a free month's storage rent. That did cover the escape hatch repair by Advanced RV Repair but I am still out a bike. As I said, bummer :(